Many patients are accustomed to using apps that make everyday activities easier, from banking to fitness tracking. But could mobile technology also ease the financial burden of cancer costs?
Likely so, according to research presented at the ASCO 2020 annual meeting. In the study, researchers explored the use of "Bridge," a patient-facing mobile app powered by Vivor's financial navigation technology. By connecting patients with available assistance from manufacturers and foundations, Bridge helped more patients apply for (and receive) financial help.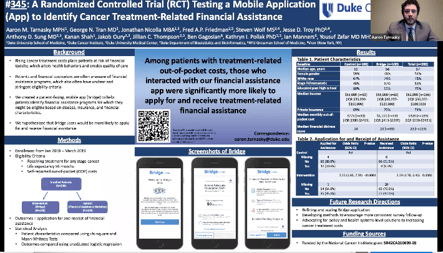 Among the study of 200 cancer patients:
35 percent of Bridge users applied for financial aid, compared to 10 percent of those who didn't use the app.

30 percent of Bridge users received financial aid, compared to 9 percent of those who didn't use the app.



Vivor CEO Ian Manners and Duke Cancer Institute's Dr. Yousuf Zafar discussed the research and the genesis of Bridge in an earlier interview on Duke's website.
"Through an interface we created with Duke's Epic EMR, Bridge is able to pull in relevant clinical and insurance details for each patient who consents to participate," Manners said. "Then, behind the scenes, Vivor's technology matches the patients to exactly the right sources of financial assistance--whether it's from a pharmaceutical company or a non-profit foundation."
As patients onboard with the app, Bridge sends them text messages asking for needed information, such as household size or income. Once that process is complete, patients see a list of programs they're eligible for in an easy-to-read format. If a patient is interested in a certain program, they can request help applying for it from a Duke financial counselor directly from the app.
With financial toxicity among the largest concerns for newly diagnosed cancer patients, Dr. Zafar and Manners pointed to the impact mobile technology has on the ability to personalize financial services for each patient.
"Today, patients are paying thousands of dollars out of pocket for drugs when, in many cases, financial assistance is available," said Dr. Zafar. "Our goal is to put that information in patients' hands at the time of treatment decision-making. If patients have access to financial assistance information prior to the start of treatment, they could potentially avoid medical debt, and are more likely to be adherent to their treatment."
To learn more about the Duke University and Vivor partnership, read the full interview here.